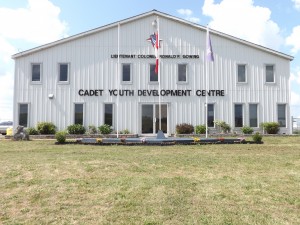 About 822 Tutor Squadron Royal Canadian Air Cadets
822 Tutor Squadron received its Air Cadet League of Canada Charter in July, 1972. The Squadrons first sponsor was the Moose Lodge located on Wabanaki Drive in Kitchener.
The Squadron adapted the name "Tutor" after the RCAF's former training jet at the time. As the Squadron grew it moved to Suddaby Public School in Kitchener. While at this location the Squadron Sponsoring Committee sought a new primary sponsor with a long term facility to house the Squadron.
The Waterloo-Wellington airport at Breslau adopted the Squadron and provided a training area in the stable of an old dairy barn on the airport property. With a lot of volunteer work the barn was made ready for the growing Squadron and was home to the Squadron for 20 years. (1980-2000)
In 1997, under the direction of Major Tom O'Drowsky and LCol. Ronald F Gowing (RCAF Ret.), a group of parents and volunteers set out to build a new Cadet facility. A lot of hard work and long hours were put in to secure the funding for this ambitious project. Despite their best efforts, the project did not materialize. In 2000, the old barn became uninhabitable, so a new effort was taken to kick-start the funding for the new building. Over the next 4 years, volunteers secured the funding through private donations, service clubs and local businesses.